City-Wide Solar
As of May 2015, the Worcester community now has 390 solar projects with a total capacity of 5.7 MW (5,706 kW).
Summary:
Residential solar accounts for the largest total solar capacity - 2,278 kW (40% of the total) - as well as the largest number of projects at 354 (91% of the total)
Schools (K-12) are in 2nd place – 1,719 kW (30%) solar capacity from 11 projects
Commercial solar is in 3rd place – 973 kW (17%) solar capacity from 18 projects
See the breakdown of amount of solar energy (measured as solar capacity in kW) installed in Worcester by zip codes: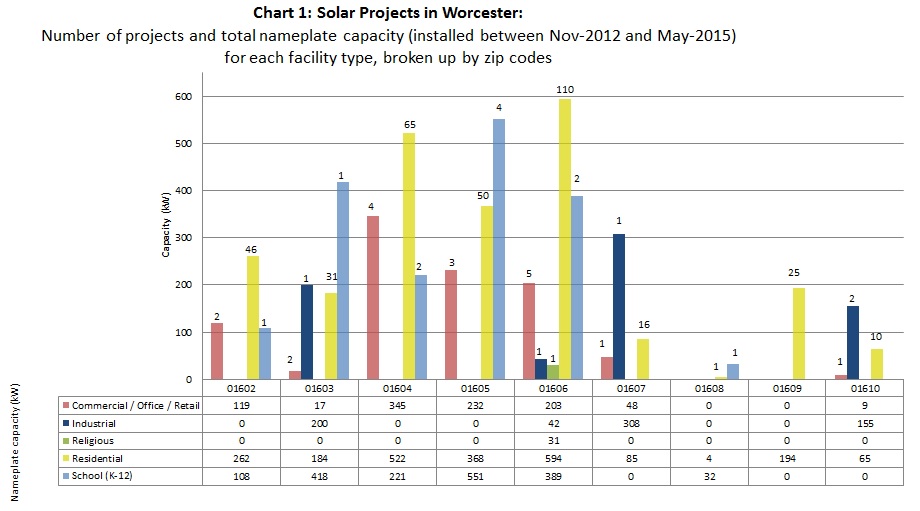 ---
---
One of the most important policies that spurred such high rate of solar developments in Massachusetts was the Solar Carve-Out program which is a part of the Massachusetts Renewable Portfolio Standard (RPS) and is designed to facilitate the development of new solar photovoltaic installations.
The original program was established in 2010 (Solar Carve-Out I) with the goal of increasing solar energy generation capacity statewide to a total of 400 MW, and was met within three years.
Seeking to build on the success of the first program, the Solar Carve-Out II Program was created to reach 1,600 MW of photovoltaic capacity by 2020, providing approximately 3%-4% of the state's total electricity supply.
The positive environmental attributes associated with the clean electricity production are sold as Renewable Energy Credits on the market – one credit per each mega-watt-hour of electricity produced.