Sustainability Conversations
---
Click here for video excerpts from a Massachusetts Sustainable Communities & Campuses Conference, held on April 24, 2013 at the DCU Center in Worcester, including "Making out physical environments more sustainable" presentation by Commissioner of DPW&P Robert L. Moylan Jr.
---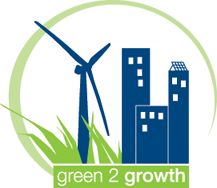 Green2Growth Community Summit
On September 19-20, 2011, the City co-hosted with National Grid a 'Green Today – Grow Tomorrow Worcester Energy Summit.' About 300 people attended and engaged with one another to envision a sustainable future for the City. The result was enhanced community partnerships and a new Sustainability Hub at 912 Main Street.
Video excerpts from the Green Today/Growth Tomorrow - Worcester Energy Summit 2011 (23:14)