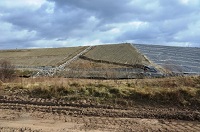 Particularly noteworthy due to its size is a large-scale solar installation at the former (capped) Greenwood Street Landfill. The 8.1 MW-DC solar array covers the entire top plateau area of the former landfill (about 25 acres). This project is both an appropriate reuse of a large municipal property that is a former landfill and will be profitable, with an anticipated 6-year payback on the investment.
This project is expected to be the largest landfill solar project in the state to date, producing electricity equivalent of powering 1,340 homes for a year*!
The solar array will be municipally-owned which would allow the City to take advantage of selling electricity at the valuable net-metering rates and selling the Solar Renewable Energy Credits (SRECs).
*Assuming ~ 9,890,000 kWh for the first year of electricity production and
7,380 kWh/year
of residential electricity consumption in Massachusetts.
Finances: The project was enabled by the Energy Savings Performance Contract. The total project cost is ~$27 million with the payback of about 6 years, in part due to a much higher value of SRECs in the beginning of the term. Using conservative estimates, the City will recoup ~$50 million over the 20 years of the project, and ~$15 million more during the subsequent 10 years, since the array's life expectancy is 30+ years.
Progress Update: As of June 2017, the Municipal Solar Farm has been mechanically completed and is undergoing final testing. It has been approved by National Grid for interconnection to the electrical grid. A ribbon cutting ceremony is expected in July-August, and will be announced once scheduled.
Interesting Facts:
There are 1,430 racks holding up 20 solar panels each – for a total of 28,600 solar panels!
The racks with panels are ballasted with concrete blocks to avoid penetration of the landfill cap.
Solar panels' tilt angle - 25°; azimuth - 180° (i.e. due south).
Solar panels are also referred to as "Monocrystalline Solar Modules"
Project Manager and Engineer is Borrego Solar Systems Inc.
All contractors are part of local unions – electricians, engineers, heavy machine operators, and more - with majority coming primarily from Central and Eastern Massachusetts.
Learn more by clicking on the solar panels' specification sheet to the right.