---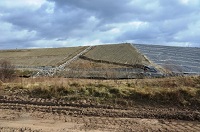 Particularly noteworthy due to its size is a large-scale solar installation at the former (capped) Greenwood Street Landfill.
The 8.1 MW-DC solar array covers the entire top plateau area of the former landfill (about 25 acres).
This project is both an appropriate reuse of a large municipal property that is a former landfill and will be profitable, with an anticipated 6-year payback on the investment.