Municipal Solar Installations - Summary
---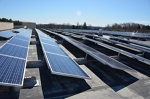 The City has installed 597 kW DC of solar capacity at 4 municipal sites between 2011-2014, using a combination of grant funding available for solar projects at schools and water filtration plants, as well as the municipal ESPC funding mechanism. Click here for sustainability profiles on each of these installations.
As part of the ESPC, Worcester installed 1,499 kW DC of solar capacity at 8 Worcester public schools during the 2015-2016 period. Two of these installations are solar carports at two public schools (Burncoat High and Sullivan Middle); while the remaining six solar installations are roof-mounted over white-coated roofs, to further improve systems' performance and buildings' energy efficiency. Click here to learn more!
Since the summer of 2016, construction crews have been busily constructing almost 29,000 solar panels (8,100 kW DC) on top of the former Greennwood Street Landfill! Expected project completion date is Spring, 2017.
---
Click here to learn about financial, environmental, educational and other benefits related to these projects!