Municipal Solar Installations
Since 2011, the City has been building its solar portfolio, expecting to top out at 10.5 megawatts of solar capacity by the end of 2017.
All solar installations are City-owned. The total anticipated municipal solar nameplate capacity of existing and proposed projects will be 10.5 MW (DC or direct current).
This number includes both projects done as part of ESPC (11 solar installations, green bars below) and outside of it (4 solar installations, blue bars, below).
---
Chart of Municipal Solar Installations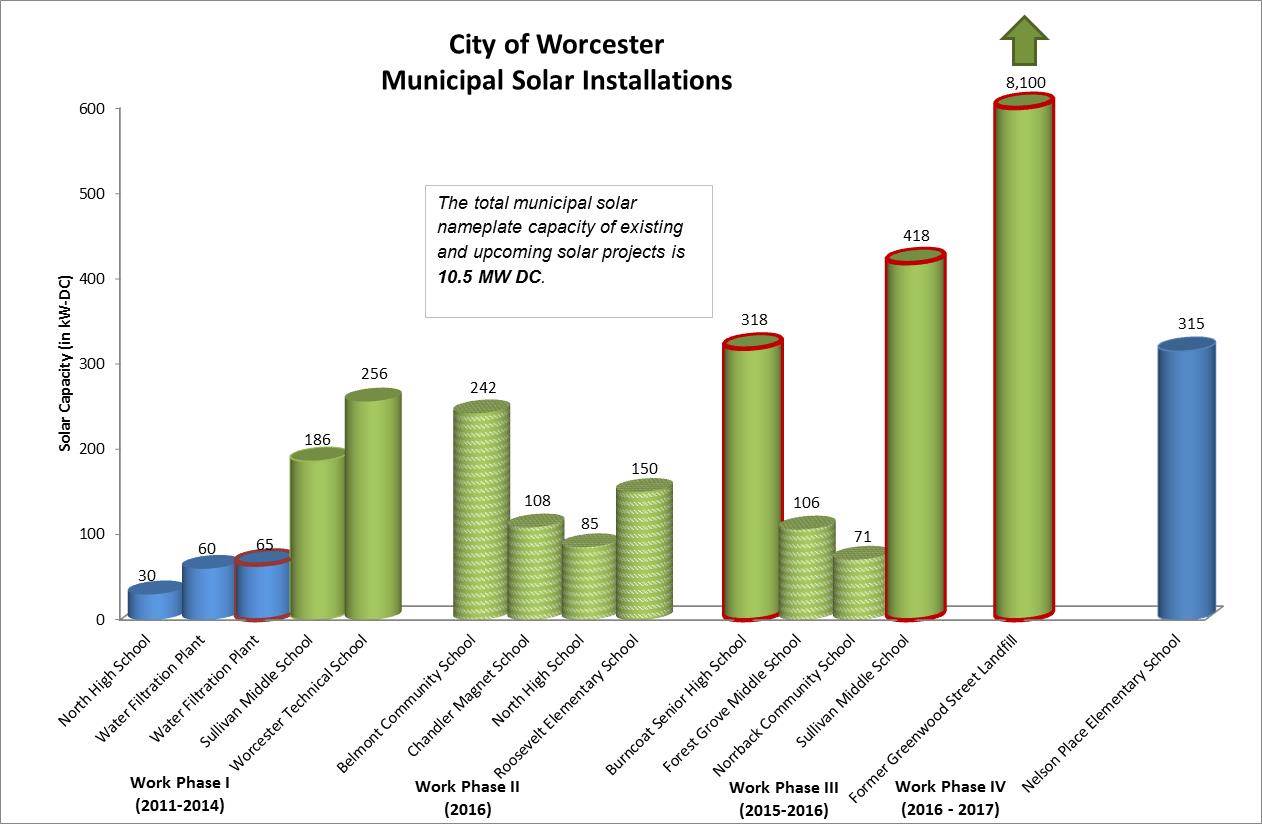 Chart Notes:
1) Current and Upcoming Solar Installations are listed in a chronological order, alphabetically within each work phase of the ESPC.
2) Blue bars represent projects done outside the Energy Savings Performance Contract.
3) Bars with a red outline represent ground-mounted solar projects; all others are roof-mounted solar installations.
4) Green bars with white-stripes represent inclusion of high-grade, white roof sealer on a roof prior to installation of a roof-top solar array.
5) ESPC's Work Phase IV: Due to the solar capacity of majority of installations, the graph is not showing the entire extent of the proposed 8.1 MW solar installation at the top of the capped former Greenwood Street landfill.
6) While initially included in the Energy Savings Performance Contract, due to a number of issues, solar installations at the Beaver Brook Park, Elm Park Elementary School, South High School, and Water Filtration Plant have been removed from the project list and, therefore, are not included in this graph.
---
Distribution Map of Municipal Solar Installations